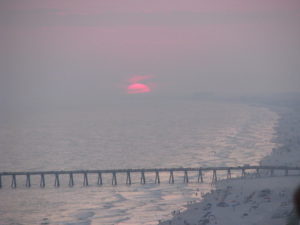 How many times have we said, or heard someone say, "I've got spring fever"? What does having spring fever mean, anyway? In an effort to gather data *wink* on the matter, I asked a small sample of my own household (N=1). What is spring fever? Not surprisingly, I heard pretty much what I expected to hear. "It's when you've been cooped up in the house all winter and suddenly you want to go outside and start cleaning up the yard, pruning the shrubs (ok, maybe that should've been done a few weeks earlier), and you start thinking about that flower garden and what vegetables to grow this year". Following the long winter, it's about cleaning out and preparing for things new. There's a sense of vibrant energy in the air.
The fact is it's not just that the days are longer, but our bodies have biochemical responses to the increase in light. We begin to produce less melatonin, an agent that impacts the sleep cycle. Moreover, the body produces increases in serotonin, leading to improved mood and increased energy. And any teacher will tell you this, attention spans may wane, thoughts wander, and sometimes we get off task. It's spring, after all!
Not everyone experiences the elevated moods of spring that are commonly observed with "spring fever". Whereas, most people who experience seasonal depression find that their symptoms tend to occur during the winter months, some people have the opposite experience and find their depression to worsen during the spring and summer months.
Depression, regardless of when it occurs, is a treatable condition. There is hope for those who experience symptoms beyond those mood disturbances occurring in everyday life. If you or your loved one is experiencing symptoms of depression, contact Auburn Behavioral Health at (334) 329-7155. Voice mail is checked regularly, 7 days/week. For psychiatric emergencies, call 911 or go to the nearest Emergency Room.
(Sources: DSM 5; Journal of Rational Emotive Cognitive Behavioral Therapy; Canadian Journal of Applied Sciences; European Neuropsychopharmacology; and European Review for Medical and Pharmacological Sciences).